01.03.2019
30.06.2018
28.04.2017
02.06.2016
01.07.2015
07.06.2014
Full line up announced :
26.05.2014
Popular 90's band Toploader have been confirmed to headline this summer's Hobble on the Cobbles in Aylesbury Town Centre (24.08.2014) - read the full article HERE.
01.03.2014
Steve Rothery Band : "The Ghosts of Pripyat" - Click HERE for latest Tour Dates.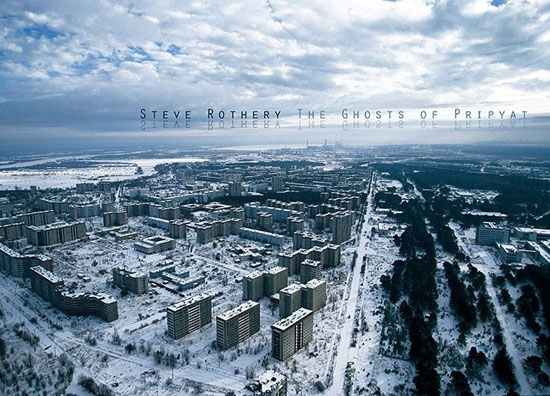 12.02.2014
HOBBLE ON THE COBBLES WILL RETURN IN 2014 - (24.08.2014)
Full details to be announced in due course - more information.
01.02.2014
MARILLION GUITARIST 'KICKSTARTS' SOLO ALBUM CAMPAIGN
Guitarist and founder member of the multi-million-album selling rock band Marillion, Steve Rothery chats to The New Roxette about his long-awaited solo album "The Ghosts of Pripyat", which is due to release September 2014.

On his birthday last November, Rothery created and launched a 'Kickstarter' campaign to help raise profile (and finance) for this solo project, which hit its target of £15,000 in under 24 hours, and at its close raised a massive £59,782, from 2051 'backers' and fans.
Steve says: "The solo album came about after I'd written music with my good friend Dave Foster for the Plovdiv International Guitar festival. The music went down so well and was so effortless to write that it seemed like an obvious thing to do. I have a few guest musicians appearing on the album including Steve Hackett and Don Airey with more to be announced soon.
An album launch party is already planned for 20 September at Pendley Court Theatre, Tring. Steve adds: "I'm currently booking a European tour for October and November plus we've also been offered shows in the Ukraine, Russia, Japan and Malta.
A show at Bush Hall (London) has also been arranged for Saturday 8 November 2014". Click HERE for Tickets.
To join the mailing list and for all the latest news and information please visit : www.SteveRothery.com
FACEBOOK
TWITTER
YOUTUBE
Mailing List
20.01.2014
THE LOCAL MUSIC CLUB THAT ROCKED THE WORLD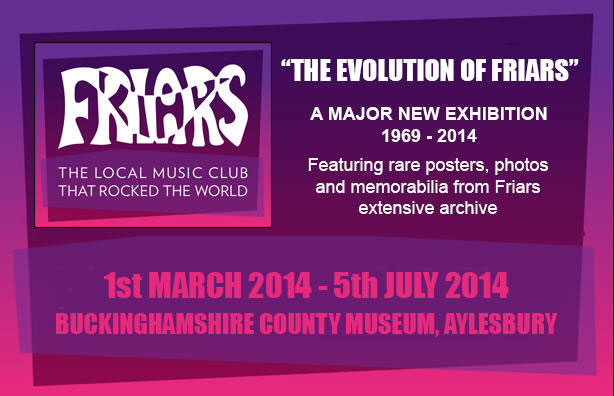 From March till July 2014 there will be a major new exhibition covering the evolution of Friars, from when it first launched in 1969 to present day, at the Buckinghamshire County Museum, (in Church Street, Aylesbury town centre). The exhibition will include 2D and 3D exhibits as well as audio and audio-visual material, plus a small cinema, which will feature Friars members and artists talking about their own personal memories about Friars. For all the latest news and information visit: www.AylesburyFriars.co.uk
23.08.2013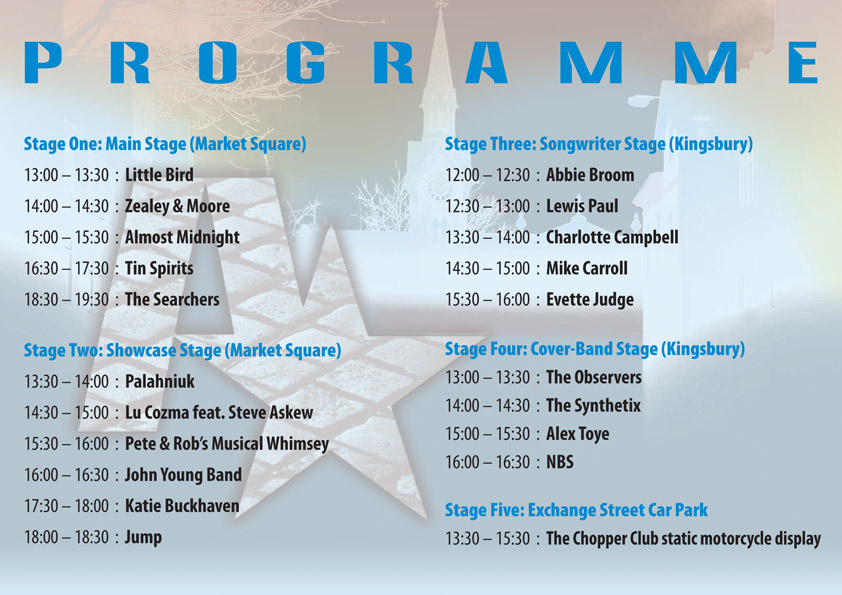 08.08.2013
Please check out our new VIDEO TRAILER for Hobble on the Cobbles 2013, courtesy of JohnZealey.com We hope you enjoy a short trip down memory lane, from HOTC over the past few years! We look forward to seeing you on 25.08.13 for the 'next chapter'! #HOTC2013
02.04.2013
Argent, renowned for hits like 'Hold Your Head Up' and 'God Gave Rock 'N Roll to You', headline Johnny's Rock 'N Roll Show - a one-off fund-raiser at the Waterside Theatre, Aylesbury, on June 2nd (2013).
In what is likely to be the band's final performance, ARGENT reunite in their full and original line-up (Rod Argent, Russ Ballard, Bob Henrit, Jim Rodford) together with members of The Zombies including singer COLIN BLUNSTONE ('She's Not There', 'Time of the Season', 'I Don't Believe in Miracles') in addition to Steve Hogarth and Steve Rothery from MARILLION, and THE MOON DOGS, with guest guitarists Danny Prendergast and Jerry Playle opening the show.
The night is geared to raise funds to provide equipment to facilitate rehabilitation for 17-year old Johnny Beer Timms from Aylesbury, left paralysed from the chest down after a tragic trampoline accident. Johnny's father, guitarist Derik Timms, fronts blues rockers Moon Dogs on the night.
"We're not just musicians, we're friends," says Rod Argent. "We've seen Johnny grow up and now we want to see him back on his feet".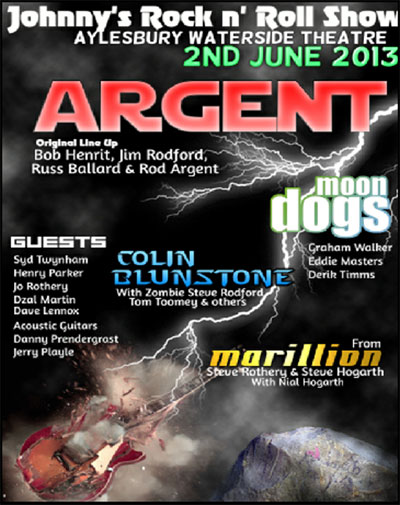 For more information visit: www.johnnysrockshow.com
Tickets are available HERE
Watch the promotional video HERE.
02.04.2013
Tickets are still available for Steve Hackett, who will be performing at the Aylesbury Waterside Theatre on 9 May 2013. Click HERE for more details.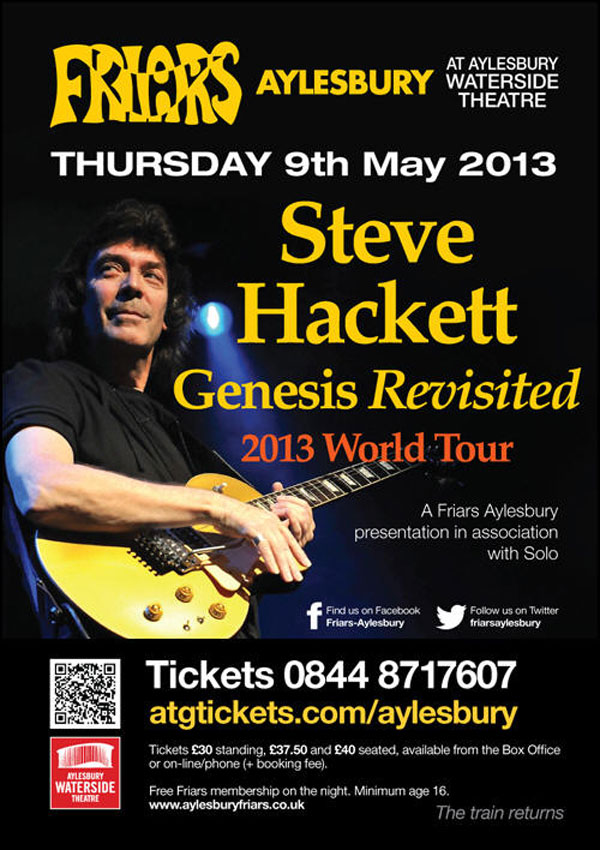 02.04.2013
A few videos on a new Hobble on the Cobbles (Aylesbury Showcase playlist) to whet your appetite, if you're looking forward to seeing a few bands in Aylesbury this summer. Click HERE to view.
02.04.2013
Click HERE to listen to the HOTC 2013 playlist on Spotify
02.04.2013
New Interviews with Charlotte Campbell, and John Young
02.04.2013
Aylesbury singer-songwriter Helen Sanderson-White releases her new EP 'Sirens and Other Mysteries' on 5 April 2013 following a successful funding campaign through Kickstarter.com For full details visit her Website and Promotional Campaign
NEWSFLASH
NEWSFLASH
NEWSFLASH
New Marillion Album "Sounds That Can't Be Made" – coming soon…
Watch the Marillion Album Trailer Here
NEWSFLASH
Aylesbury Festival Weekender – (21-22 July 2012) – Kingsbury, Aylesbury Town Centre
READ the latest Press Release HERE, & Check out some of the latest INTERVIEWS HERE
Beechstock Festival
NEWSFLASH
Beechstock Festival – (27-29 July 2012) - High Wycombe
READ the latest Press Release HERE
Aylesbury Festival

British Guitar Academy
'Rock Chorus'
Love to Sing? You will Love 'Rock Chorus'! Just what you've been looking for..! READ all about the Rock Chorus HERE.
Beechstock 2012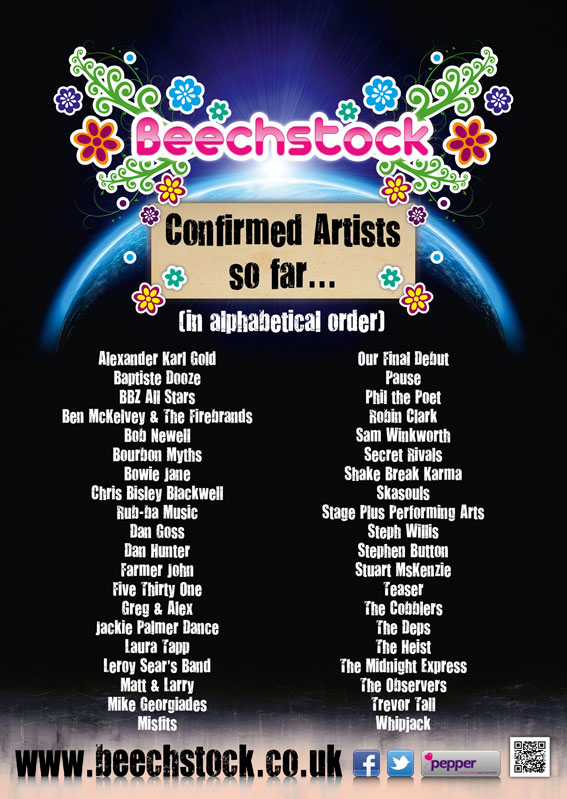 Click HERE for Facebook updates
HOBBLE at the Waterside
14.02.2012 : It is with great sadness that we have to announce the HOBBLE at the Waterside gig has been CANCELLED with immediate effect due to lower-than-expected ticket sales. FULL press release here.
An all-day music festival for local bands will take place on Sunday 26th February 2012 at the Aylesbury Waterside Theatre. The Ultimate 70's Soul, Dance & Disco band PLATFORM SOUL will headline. Also performing is the British Guitar Academy 'All-Star' Band TIN SPIRITS, plus some very special guests, including guitarist from the multi-million selling rock band Marillion, STEVE ROTHERY. Doors open at 12 noon. Tickets are £14.
Click HERE for Tickets
Click HERE for Press Release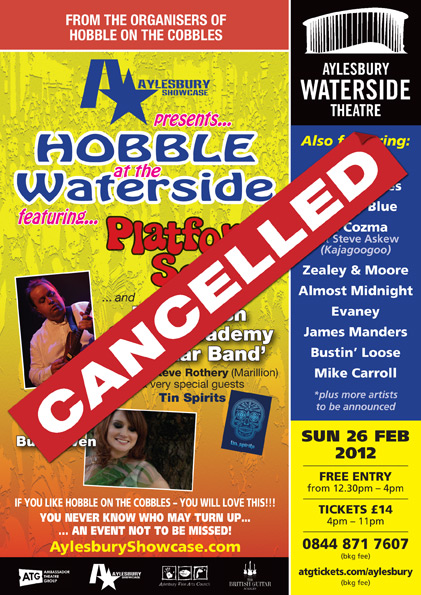 Click HERE for Press Release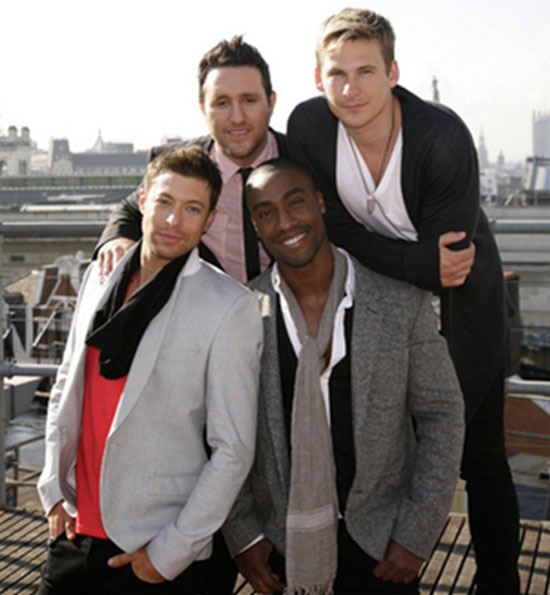 Click HERE for Tickets & Information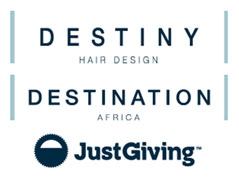 Destiny Hair Design owner Tracey Gascoin and seven of her salon team are setting out on a life changing experience called Destination Africa. They're joining forces with Coco's Foundation to help extend an orphanage in Ubombo in a very remote part of South Africa. The orphanage currently homes, loves and cares for 19 children. The trip takes place in May 2012 and the team need to raise at least £17,600 for building materials.
Click HERE for Full Details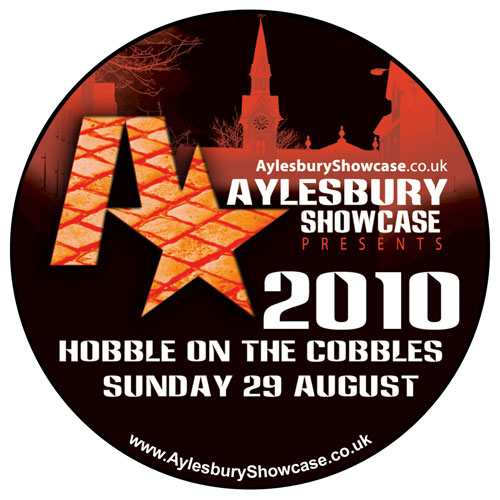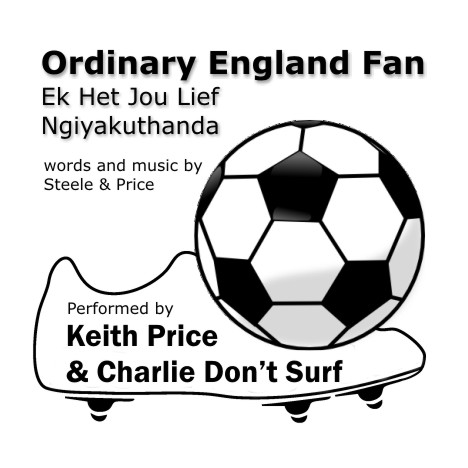 Popular Luton-based covers band Charlie Don't Surf, together with singer-songwriter
Keith Price have written and recorded an 'Unofficial World Cup Song' entitled
"Ordinary England Fan", due for release on Wintersun Records on 11.06.2010.
Click HERE for more information.
READ THE INTERVIEW HERE

THE LAST 'FRIARS-AYLESBURY' PHASE-THREE GIG IN THE OLD FRIARS VENUE

FRIDAY 4th JUNE 2010 - 7.00pm
PAUL WELLER
with special guest
JOHN OTWAY
CHARITY SONG
Our good friend, and local singer/songwriter Mike Carroll has written and recorded a brand new song for Cancer Research UK, whereby all the proceeds will go directly to the charity. Click on the widget, take a listen and please support the single - only 79p from iTunes...
Catch Mike and his band Groov8 at the Aylesbury Festival this summer (17 July 2010)
TICKETS FOR 'THE LAST LOCAL ROCK SHOW' ARE NOW AVAILABLE ONLINE…
CLICK ON THE LINKS BELOW TO BUY!

HOBBLE ON THE COBBLES "- best year yet ! - …as the 'Goo' Times rolled"..!
Click HERE for Press Release
Click HERE for Interviews & Live Footage courtesy of BucksTV
FRIARS AYLESBURY – Latest Gig News Announced:
Click HERE for Press Release:

AYLESBURY FESTIVAL – MASSIVE SUCCESS for Aylesbury!
Click HERE for Press Release:

LOST MINUTE
Aylesbury based acoustic-pop band Lost Minute have released their debut 'double-A-side' single "ANYMORE / DECISIONS", to a fantastic reception.
Available for download on iTunes, and all major digital stores, this band really is making an impact, not just on the local scene, but across the UK, and as far as America and Japan too.
CLICK HERE TO DOWNLOAD: (iTunes)

CLICK HERE TO DOWNLOAD: (Play Digital)

CLICK HERE TO DOWNLOAD: (Amazon)

CLICK HERE TO DOWNLOAD: (HMV)

CLICK HERE TO DOWNLOAD: (Tesco Digital)

Plus, a FREE bonus track is available to
all their dedicated fans HERE:
MYSPACE - FACEBOOK - MUSICGLUE - BUCKS TV
Friars Programme
To help celebrate the 40th Anniversary of the legendary Friars Club, The New Roxette has exclusively teamed up with Friars Aylesbury to create the Official Souvenir Friars Programme for the (first) Anniversary concert of 2009, which is to be held on 1 June 2009 featuring The Pretty Things, Edgar Broughton, and The Groundhogs.
The Official Souvenir Friars Programme and the JUNE issue (no.7) is available for 100p (£1) ONLINE, or 150p (£1.50) exclusively from The New Roxette.
Simply Click and Pay below for The New Roxette / Friars Aylesbury Programme to be delivered straight to your door.
Official Souvenir Friars Programme
ONLINE Version :


Official Souvenir Friars Programme
PRINTED Version (incl. p&p) :


If you don't have PAYPAL, please send a Cheque payable to :
The New Roxette to: c/o Jam Central Records, P.O. Box 230, Aylesbury, Bucks, HP21 9WA
For all the latest information about Friars Aylesbury, visit their Official Website: www.Aylesburyfriars.co.uk
Coming Soon…although you will be able to pick up your free copy at your local stockist (Magazine section), you don't have to miss out – Reserve your copy here first!
Aylesbury Roxette JULY 2009
The Official Aylesbury Festival Programme
PRINTED Version (incl. p&p) :


Aylesbury Roxette AUGUST 2009
The Official Hobble on the Cobbles Programme
PRINTED Version (incl. p&p) :


** STOP THE PRESS ** NEWS EXCLUSIVE **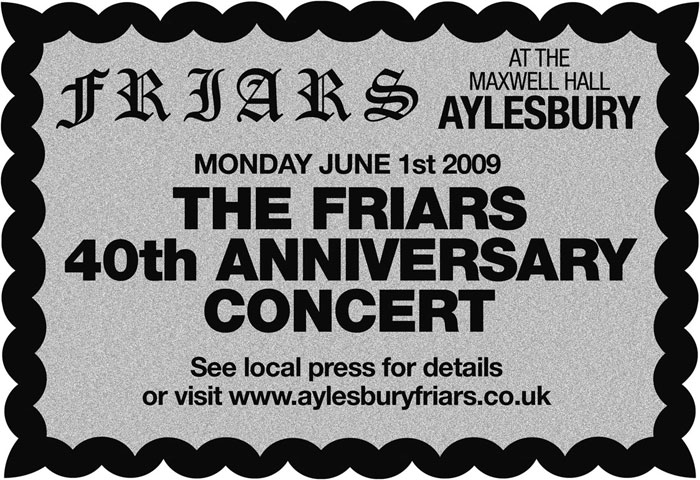 Click to view: OFFICIAL PRESS RELEASE

Claire Batchelor released her debut EP "WISH" 16.02.09.

Available NOW on iTunes, HMV, Amazon, and Jam Central Records
- - - - - - - - - - - - - - - - - - - - - - - - - - - - - - - - - - - - - - - - - - - - - -
Hobble on the Cobbles announce their chosen Charity for 2009

The Thames Valley & Chiltern Air Ambulance Trust

To make a secure/direct donation visit:
www.justgiving.com/HobbleOnTheCobbles
- - - - - - - - - - - - - - - - - - - - - - - - - - - - - - - - - - - - - - - - - - - - - -
** STOP THE PRESS ** NEWS EXCLUSIVE **
The New Roxette can exclusively reveal, and announce, popular local 80's electro-pop band KAJAGOOGOO will headline Hobble on the Cobbles 2009 in Aylesbury Market Square on Sunday 23 August 2009.
More information will be announced shortly.
Visit: www.AylesburyShowcase.com for all the latest News.
Bands wishing to apply to perform at Hobble on the Cobbles 2009 simply need to go to the official website, complete the application form, and send it in for consideration! Good Luck!!! The full line-up will be announced later in the year.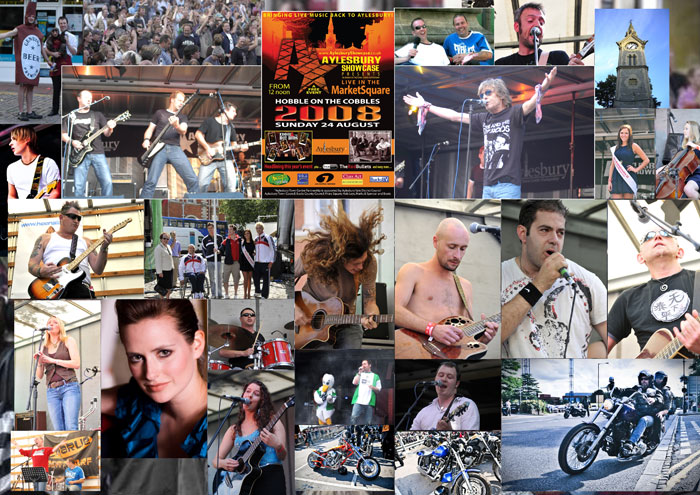 Local Music Fans Gather Together To Launch
'The New Roxette'
The original 'Aylesbury Roxette', Aylesbury's local music-magazine and newspaper first launched in July 1976, and ran for 9 issues until June 1977, which even included a Keith Richards 'trial special' in its January 1977 issue.
The 'Aylesbury Roxette' focussed on all the local gigs and up & coming bands, not to mention covering all the latest music related news of its day. It was also pivotal in highlighting the bands associated with Friars; Aylesbury's very own music club and venue, which finally closed its doors in 1984.
Now, over 30 years later, a group of friends and local music fans have embarked on relaunching this popular FREE local music-magazine once again.
Organiser and Editor Stuart Robb explains:
"Aylesbury used to have a really vibrant music scene back in the '70's and early '80's with all the local gigs and bands playing every week, which of course included Friars, so we are now actively helping to bring live music back to Aylesbury once again.
Stuart adds:
"We have already brought back, revived and relaunched the 'Hobble on the Cobbles', which is now a very popular event in the Aylesbury calendar. 2008's free music festival was the best so far, which was headlined by Eddie & The Hot Rods. Previous headliners have been Fish (which also featured an exclusive one-off performance with Marillion), and John Otway (with a surprise guest appearance by Wild Willy Barrett). In 2006 Scouting For Girls also performed at this fantastic event and went on to greater things soon afterwards…
2009's HOTC will be very special as well, with a number of surprises already lined up. The date for this will be held on 23 August 2009, so make sure you make a note in your diary! All the latest news will of course be covered in 'The New Roxette'.
We hope, with the launch of 'The New Roxette', we can help cover more local music-news stories, promote the best gigs and feature all the wonderful local bands from around the county and beyond".
Each month 'The New Roxette' will be delving into Aylesbury's historic past, whilst at the same time discovering and developing new music and exciting new bands for the dedicated music fan to check out!
Contact us HERE if you would like 'The New Roxette' to help feature or promote your band, gigs or latest music news!
The New Roxette is out now, and available for free at Aylesbury Music, The Civic Centre, The Kings Head, Johnston's Café, The Coffee Tree (Aylesbury), Elgiva Theatre (Chesham), Rockhopper Studios, Dukes Music, Vinyl Riches, (Buckingham), Counter Culture, The Nags Head (High Wycombe) to name but a few…
Also check out the Myspace & Facebook LINKS (and become our 'friend') for even more News, Information and Exclusive Announcements.